Picture this.  Sunday nights 9pm, circa 2001-2005.  "Desperate Housewives" on ABC.  A teenage Clare and her nail polish stash in front of the tv, with nail polish remover, cotton pads, cuticle sticks, nail files, all the tools, and a nice steaming cup of hot chocolate.  Yep.  Every Sunday night.  And when "Desperate Housewives" wasn't on, it'd be something else, but religiously, every Sunday night, a freshly painted manicure.  How did I get to this point?  Remember in the 7th grade when I had to do a "Consumer Fair?"  I did a chip challenge for three nail polish brands.  THAT's how.
Fast forward to August 2012.  I was hesitant and kept getting pestered.  Then I finally saw it for myself.  Without question, even the Mr knew, one look said it all.  Even the Mr. saw and said "Wait, that's it?  No Pinterest frustration meltdowns?"  He immediately knew.  He turned to me and said "If you want to and think you can make money back, go ahead."  I heard the heavens open up and chimes and even Handel's "Messiah" was being sung.  Picture a scene from a movie, there was a light around me, my eyes beamed, I was so excited- bliss.
I took a leap of faith that September 4th, 2014.  I spent next to the last few dollars I had on the $99 starter kit and prayed.  "Dear God, what did I just do?  Do I even know people who would want this stuff?  Am I going to fail?  Please show me that I made the right choice."  (And the litany continued).  I couldn't sleep once the kit shipped.  I started freaking out.  I made a list of 100 people to contact, and knew that maybe 75 of which wouldn't even give me the time of day.  I cried.  Lots.
But these were to prevent future "Pinterest Frustration Meltdowns"
The kit came.  I loved it.  I was so excited to share the news with everyone.  No one seemed to care.  Then my birthday rolled around.  No one seemed to care or buy me Jamberry from my own account.  (That's a lie, my mom did only because she felt bad my first month was off to a horrific start).  More crying.  I was BEGGING people to host parties, and NOTHING. I was beginning to see that that $99 would have been a waste.  I just wanted to have nice nails without really inhaling polish fumes every Sunday night. That's all!
Then someone saw a post I threw on facebook and asked to host a party!  I squealed so loud, I think the neighbors may have heard me.  So I got everything all ready for the online party, and prayed for the best.  I had 2 weeks to prepare, and you bet I was going to be on my A game.  And I only got one sale.  From the Skeptic (who is now actually a consultant on my team!).  I cried some more.  I was always checking my workstation, and only one sale.  I cried a lot.  About to give up.
Then the skeptic wanted to host a party.  But with timing, we decided to just do a "Jam link" where she'd have her family/friends shop for Jamberry using her link.  Every day for those 28 days I was obsessive.  I checked my workstation every 5 minutes.  The second I'd get a sale, I would send them a thank you note.  I would jump up and down.  I would do whatever it could to make that money back, if it was the last thing I did before throwing in the towel.  I wanted nothing but free wraps and some "me" cash.
I would react with such excitement, I looked like this…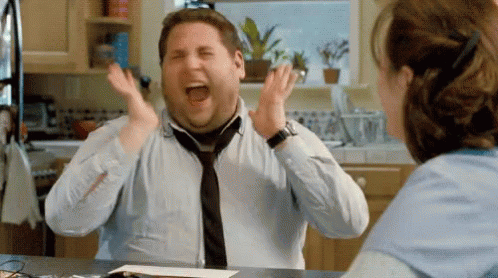 Then someone booked a party via shopping the Skeptic's link.  And that was the start of where we slow down the crying. The Skeptic's friend booked a party for March.  I spent all of February doing whatever I could to make March's party HUGE.  I researched, I googled, Pinterest, everything.  I NEEDED success.  I wasted so much time and energy.  I got myself prepared.  I overdid things.  But the party went so smoothly.  I earned my starter kit fee back, and even got future party bookings.  That summer, I had 2 parties a month, and slowly built my customer base.
Just as I was getting into the swing of things, I started to crave more.  I saw how awesome the product was, was finally able to sell more than $600 a year (that's what you need to maintain a consultant status) and was beginning to have a few extra dollars here and there for things.  I got excited.  I wanted more customers, more sales, more teammates (or ANY at that point).  I saw how there were tons of women out in the Jam-universe who were making this a part-time job with full-time salary.  I kept saying "Heck, why not me?"
But little did I know what exactly all that entailed…more tears.  LOTS of tears.  Begging, pleading.  Nightmares, frustration, and a whole lotta praying…
…Business turned around for the better…
…stay tuned!