..cue the music…
"Workin' 9 to 5, what a way to make a livin'
Barely gettin' by, it's all takin' and no givin'
They just use your mind and they never give you credit
It's enough to drive you crazy if you let it"
"Drive you crazy if you let it?"  How can I not let it drive me crazy?!  I invest so much emotional energy and passion into what I do that naturally, the day to day will drive me crazy.  What's that interview question where you answer "I care too much."?  Yes, that's me… is it a weakness question?  Or is it a strength question?  I've come to learn that the "caring too much" is both a weakness and strength and next time I go for an interview I won't be using this as an answer.
When asked, no one really has any concept of what my day job is.  I explain it like this.  "I help students figure out what classes they need to take in order to graduate "on time"…"  ("On time" is in air quotes since the traditional 4 year college track has now become 5-6 years…)  At least that's what I am supposed to be doing.
 Little secret:  With everyday being different, half the time, I don't even know what my day job is.  Could be advising, counseling, coaching, being a "college mom", or even a coordinator of life.  
I was hired to do one thing, but 2/3 of my day is NOT at all what the day should look like.  I know, I know, we ALL have that, but honestly, I feel like everyday is Forrest Gump…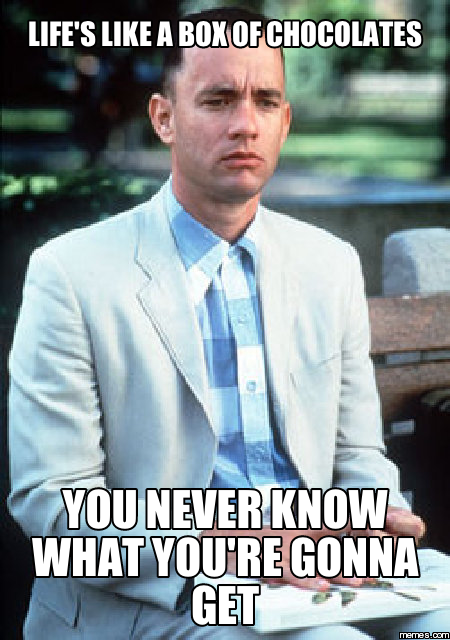 And since I regret NOT keeping a journal of instances, conversations, wacked out situations, and the like, I might as well start now.  No time like the present, right?  Might as well, considering one day I'll publish a book and become super rich and famous just for living life and doing my job to the best of my abilities…
I'm being a nice blogger and compiling all the "Nine to Five" stories here for you.  That way you can just binge read – and have a zillion tabs open…one day, we shall all run the world.  But until then, let's laugh at the head desk banging…